"One not only drinks wine, one smells it, observes it, tastes it, sips it, and—one talks about it."
– King Edward VII of England
If the events of the past several days are any indication, one also enters it into wine competitions, and then one talks – and talks, and talks – about the results!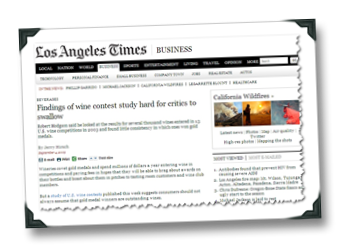 In case you've been living inside of a bottle lately, here's a recap.:
Last week, the Journal of Wine Economics issued a report that included an article by Robert T. Hodgson titled An Analysis of the Concordance Among 13 U.S. Wine Competitions.  Hodgson's report analyzed data garnered from 13 wine competitions and more-or-less concluded that the distribution of medals from those competitions showed no difference statistically then if the medals had been awarded by chance.
My personal take was that the report lacked sufficient analysis of the potential context impacting wine competitions for the data to support the conclusion drawn in the report – even if that conclusion might ultimately be true. Several people agreed and disagreed with me – which is one of the great things about blogging, after all!
The article was probably designed to kick-off discussion on the relative value of wine competitions in general, and no mater what your view of Hodgson's analysis, it would be difficult to refute it's success in doing just that.
The repercussions of the report were discussed on Dr. Vino, Vinography, and right here on 1wineDude.com – and judging by the excellent and myriad opinions on the topic that were voiced in the responses to those articles, the topic has more legs than half a glass of 16% abv Grenache.  The topic even found its way into the discussion forums on the mead website GotMead.com (seriously).
Topping it all off, on Friday the Business Section of the L.A. Times ran a story by Jerry Hirsch on the aftermath of the report, in which I was quoted.  What I liked about the L.A. times piece, aside from the fact that they spelled the name of my blog correctly (though they incorrectly stated that I am a Certified Wine Educator – I'm not, I'm a Certified Specialist of Wine, which is a different cert. but from the same organization), was that it had a slightly different take on the report  – namely, how the competition results are used after the competition is over…
What Jerry Hirsch's short article suggests (and he has some experience here, as he has previously participated in wine competitions as a judge) is that the wine competitions are totally devalued because there's no standard for consumers to reference.
Think of it this way:
Most people love a good competition, especially in the U.S.  We love them for a simple reason – they're fun. 
Sometimes, the level of competition is so high and the level of talent required so substantial that as award from that competition – like the Vince Lombardi trophy – is rightly used as a source of pride (and marketing) for a winning team.  When you win the Superbowl, it's a big deal.  When you win it six times, like the mighty Pittsburgh Steelers, it's a really big deal.
Extending the analogy the other way, when you win a preseason game, it's borderline meaningless. 
Yet, when some wineries haul off a gold medal in the wine equivalent of a preseason exhibition game, they laud the results as if it were the Superbowl.
Why do they do this?  Simple: greed. 
As my friend and PR guru Steve Raye told me (after he eloquently expounded on the same subject in his BATblog): "The key issue is medals are commercial tools that effectively sell wine, even if they don't mean anything."
In other words, medals sell wines, especially in tasting rooms, despite the fact that they're bordering on meaningless.  According to Steve, those medals function just as much (if not more so) in the trade, in helping to convince retailers to give a wine shelf-space.  Now… if medals didn't sell wine, why would retailers give shelf-space preference to a wine that was a medal-winner.  Simple: they wouldn't.
Consider this viewpoint, stated (rather eloquently) by Roger Stockton when he commented here on 1WineDude last week:
"Wine judges that I know take their responsibility very seriously. They want to find the best wines and award them accordingly. Wines are evaluated for faults, balance and varietal characteristics but again what makes a great zinfandel to one judge may not be the same thing to another regardless of both having identical training and tasting skills. This is where the study falls short. It only looks at the statistics from the side of numbers. I commend the work Prof. Hodgson put into the study and think it can be used as a starting point to go deeper into ways to make competitions better but that is all. It is nether damning or validating of the process. It confirms that wine judges are humans with varying tastes, not necessarily tasting ability."
In some ways what Roger is saying is that the competition itself is neither good, nor bad, which suggests that it's how the results are (mis)used that's a substantial part of the problem. As wine consumers, we've been so inundated with what wineries, retail and PR folk have done with those results of those competitions that the situation has become a miasma of confusion. 
What's needed is a clear 'Superbowl of wine competitions' to help us know how to factor the results of wine competitions into buying decisions – some way to know when a competition is a fun preseason romp, or a real shot at a substantive title.
Just don't expect the wine industry to give you that guide anytime soon.
Cheers!
(images: latimes.com, .heinzhistorycenter.org)