Seems I've finally succeeded in titling a post entirely with acronyms.  Time to celebrate with some choice wine!
It's just as good an excuse as any – for me, anyway.
This Saturday marks the 10th year of Open That Bottle Night, an annual event that exists entirely to provide justification for cracking open  a special bottle of 'whatever you've been saving but haven't had a good enough excuse to open yet'.
This is presuming of course that a) you have an unopened bottle of special something and b) you have not yet found a reason that you've deigned suitable enough to warrant the opening of said bottle of special something (i.e., events that I may find suitable for celebrating with wine – such as successfully getting out of bed that morning, or surviving a car ride home from work – don't cut it for you).
Participation requirements consist only of you having said bottle, opening it, and enjoying it on the last Saturday in February, in whatever circumstances you deem most appropriate (if these circumstances involve adult diapers, or men in bunny suits, then I do not want to hear about them).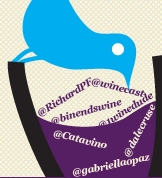 For the 10th OTBN anniversary, the Twitter Taste Live (TTL) community is teaming up with the Open Wine Consortium network (OWC) and wine importer Wilson Daniels Ltd. to provide a shared forum in which we can all global-interweb-itize OTBN.  Of course, this also provides some of them a chance to sell a bit of wine, but at least it has the potential to be very good wine:
I'll be there – virtually, of course – publishing tasting notes via twitter under what will undoubtedly become increasing stages of inebriation.
Hope to see you on-line this Saturday!
Cheers!
(images: openthatbottlenight.com, twittertastelive.com)