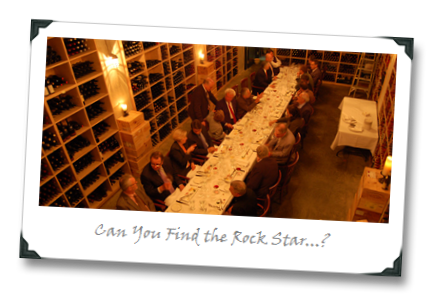 Back in March, I pondered if wine appreciation was becoming cool, drawing a parallel between wine's place in the cultural lexicon of recreation beverages and the newfound popularity of the long-running Canadian power rock trio Rush – or as I like to refer to them, The Greatest Band in the History of All Mankind.  The comparison seemed apt to me, as Rush's front man Geddy Lee is a huge wine geek (and I'm a big Rush geek).
Word on the street (well, maybe on the street named "RUSH NERD BLVD") is that Geddy's favorite wines come from Burgundy, specifically the region's ultra-premium Pinot Noir.
Lucky for him that he was invited to Barberian's Steakhouse for a lavish shin-dig that was hosted there three weeks ago to celebrate the 150th birthday of Burgundy producer Maison Louis Jadot (apparently it was also the steakhouse's 50th birthday).  I use the term lavish loosely, as some of you might not consider a four-course dinner that includes "vintages easily costing hundreds, if not thousands, per bottle," "wild asparagus Fed-Exed from France," bottles of '78 Gevrey-Chambertin and '69 Clos Vougeot, and a parting gift of "a magnum of 2007 burgundy packed in its own wooden box" to be "lavish."
By some strange oversight, I don't seem to have been invited.
Anyway, sounds like it was quite a night.  Though I've heard no reports if the ultra-premium Burgs being poured caused anyone in attendance beak into a spontaneous acapella rendition of Red Barchetta…
==============================================================
==============================================================
Cheers!
(images:torontolife.com)