This is the kind of thing that probably gives major wine critics apoplexy.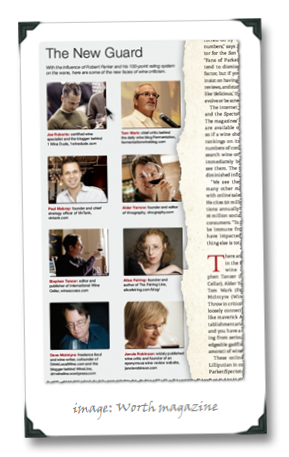 James Conaway, the talented writer and author of the excellent novel-with-a-wine-soaked-plot Nose, recently penned an article for Worth titled The War Over Wine. It's cogent, well-conceived, deftly written and fiercely opinionated. In other words, it's the kind of writing that fills borderline-hacks like me with a burning jealous rage hot enough to turn our faces the shade of a slightly aged Moulin-a-Vent.
Now, normally I don't pat attention to Worth, mostly because I do not need reading material to fill my time below deck while my yacht is piloted to my own private dessert (whoops!) desert island. Just perusing the Worth.com website is like stumbling upon the remains of some lost civilization that used the same words we do to communicate, but put them in sequences that no longer have any meaning for us. It's how Shakespeare appears to the high school student, or how Wine & Spirits appears to mortal wine drinkers, or how Umberto Eco appears to everyone who can read.
Seriously, topics can be found there such as Mutual Fund Strategies in the Aftermath of the 2008 Financial Crisis, the ever-popular Where Is the Best Opportunity in the High-End Luxury Space?, and my personal favorite, 10 Questions for Your Chief Innovation Officer ('cuz I only had eight questions for mine, so I am clearly a 99-percenter slacker!)
Anyway… Conaway's piece seems somewhat out of place in Worth in that context, but it's the kind of article that makes me want to take up arms and shout from the rooftops, in the hope that it's less a tempest-in-a-teapot and more a topical-sh*tstorm-about-to-explode (as The Tick might have shouted, "from the mighty butt checks of wine media justice!")…