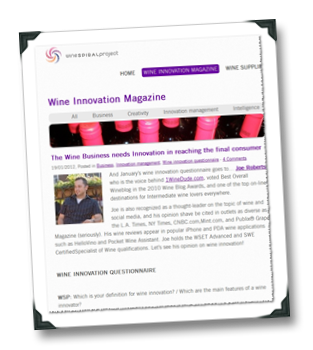 I was recently interviewed by WineSpiralProject.com, as part of their series on wine industry innovation, in which they interview personalities in the wine world and ask them to share thoughts on the wine biz and how it can/should innovate.
Yeah, I know, I'm not 100% certain why they picked me either, but what's done is done so let's just roll with it, okay?
You can check out the entire series of interviews at this link; I'll give the the super-short, edited-down-to-the-bare-bones-Cliff-Notes version of my interview right here:
Wineries are amazing at production innovation; Wineries suck at engagement innovation.
It's not in bottling lines or fermentation vessels that we need an innovation push in the wine biz; we need innovation in adjusting the attitude that most wine producers have towards consumers. What do I mean by "engagement innovation?" Short answer: using the single most innovative outreach platform ever developed in the history of the human race – the Internet – to directly engage the people who buy their shiz. This may sound like common sense to you, but a lot of the producers I encounter seem to need reminding that those consumers – and not critics – are the ones who matter the most…