I've long waged a sort of mini-war (no height jokes!) on brettanomyces.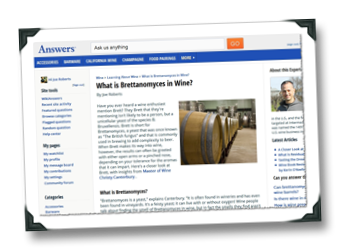 Equating it to barnyard, horse sweat, and Band-Aid stinkiness in vino, as someone who'd personally rather go for the naked, unabashed, nowhere-to-hide purity of wines like Mosel Riesling over the bombast of overdone modern red wines, I hated how Brett buried wines in its heinous off aromas.
Or so I thought.
It turns out that I actually like Brett aromas, and that my previous stance on Brett equated to blinkered, philistine, pig-ignorance on my part. That's the conclusion to which I've come after chatting with Master of Wine and all-around vino bad-ass Christy Canterbury.
After watching a replay of Canterbury's webcast on Brett for the French Wine Society, I was so shocked-and-awed that I asked to feature her in a quick introduction to Brett for my Answers.com gig (graciously, she agreed).
It turns out that Brett is not only responsible for much, much more than Band-Aid, horse sweat, and sheep excrement (which I hate) in wine, but also in some cases imparts several other more pleasant aromas like  bacon (which, of course, I like, because everyone likes bacon).
Now, I knew that already, but what I didn't previously know turned out to be downright revelatory for my future wine enjoyment. [ Editor's note: I am quite sure that some of you geeks are going to laugh heartily at the fact that I didn't know this already. Cut me some slack, I'm not a winemaker, nor am I a chemist (my PhD-holding older sister is, though). For those geeks among you who do not want to cut me the requisite slack, I've got a middle finger to which you need to be introduced.]…