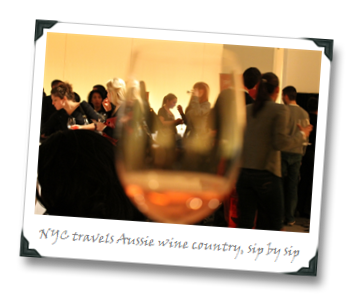 Considering that I've been so surprised by the high quality of some Aussie white wines in the last several months, it seems surprising that I should be surprised at all when Aussie wine surprises me these days.
And yet, my mind is simple enough (and apparently entrenched enough in its own little preconceived notions) that the Aussie wine surprises keep coming (good and bad, but probably much more good than bad right now).
Such was the case at last week's A+ Aussie Wine public tasting event at Espace in NYC, called "Around Australia In 80 Sips" and organized jointly by Bottlenotes and Wines of Australia (of whom I was a media guest). [ By the way, the "A+" thing is their marketing label, not mine. ]
The Aussie's in the biz who attended refer to this sort of public tasting event as a "swim through" – I'll let your imagination fill in the blanks on what that means, but let's just say I had to fight to make my way to poorly-placed spit buckets, and I was by far in the minority in terms of actually using them.
The volume of imbibing aside, it was great to see so many people (a few hundred NYCers) – and predominantly young people, who apparently haven't heard (or are just ignoring) the misinformation that Aussie wine is dead – coming out to get a crash-course in what Aussie wine has to offer the U.S. market.  Something like forty wineries participated – mostly the big ones, which very likely isn't a true representation of the diversity of the Aussie wine market, but was certainly an accurate representation of the Aussie producers most people are likely to find available on our shores.
The surprises for me this time? The reds…