Wine writers who work in print are a distrusting bunch.
That's one of the conclusions that, while not exactly all "sunshine, peace, love & Marsha Brady," is nonetheless a logical one that could be reached after you peruse the results of Tom Wark's recent 2010 Wine Writers Survey.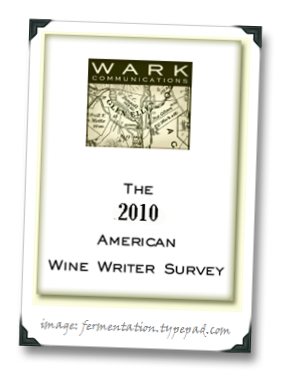 Much has already been written on the subject of Tom's survey results (my personal fave to date comes to us courtesy of the scathingly witty Tom Johnson), and while I tend to avoid "me too!" subject matter articles, not chiming in on the wine writing survey results (in which I participated as one who was surveyed) while attempting to make a living as a wine writer… well, that just felt odd.
In terms of what the hubbub is all about, the main point of contention is this: the survey results strongly suggest that print wine writers find on-line wine bloggers to be unreliable sources of wine information, and (less strongly) imply that print wine writers feel their livelihoods are threatened by a largely inexperienced cadre of on-line wine "writers." Tom sums it all up nicely:
"In my view, the single most important point that would lead anybody, and in particular experienced wine writers, to downplay the credibility and trustworthiness of a blogger is the well know fact that there is absolutely no gatekeeper when it comes to who can publish a blog. There is no pre-assessment of the talent and skills of a wine blogger prior to their publishing. There is no editor that evaluates their skills and gives the blogger the job of writing about wine. Bottom line: A fourteen year old girl inhabiting the attic of her mother's home on the North Dakota border with Canada and suffering from delusions can as easily start writing and publishing a wine blog as the most experienced wine writer living in the heart of Wine Country."
The trouble for me is that the argument so far seems to be (at least partially) ignoring the very thing that sets on-line wine coverage apart from print…