You may have noticed that Wine Spectator has been advertising here on 1WineDude.com. I know, right?  The temperature in Hell may just have gotten a couple of more degrees below freezing.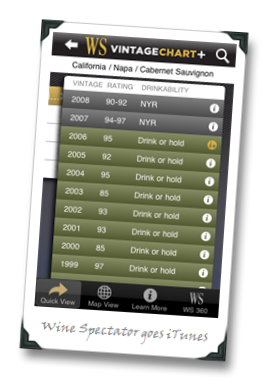 WS are pushing their new iTunes vintage chart app, and part of that push involves a month-long ad stint here and on other on-line wine publications/blogs. Me being me, I asked them to sweeten the deal and as such this week we are giving away a one-year subscription to Wine Spectator (print or on-line), a $49.95 value. 
I think I just heard teeth chattering by another lost soul in Hell… [though I should note, before you or the FTC send me any flaming e-mail, that this post is not sponsored, I worked with the WS reps to concoct the giveaway idea].
Anyway, here's how the giveaway works:
Leave a comment here telling everyone what you think about vintage charts: are they useful? overrated? essential?
In one week, I will randomly select a winner from the commenters to walk away with a one-year Wine Spectator subscription!
I'll kick things off by talking about my view on vintage charts – but first, I probably need to clear the air about how I view Wine Spectator in general, because right now that air seems to be a little smoky…