Instances and identification of the Wine Snob in the wild
The wine snob is easily encountered but often difficult to successfully identify in the wild. This is because the wine snob in almost all salient ways physically resembles the human homo sapiens. Often, the only way to successfully identify the wine snob is via verbal cues.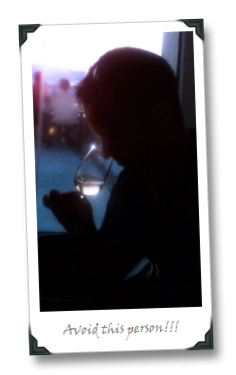 The wine snob, isolated, is rarely dangerous and poses almost no immediate threat apart from annoyance. There are cases in which it has been reported that the wine snob will "leech" onto an unsuspecting person and follow them incessantly, carping verbal nonsense – the phrase terroir (tear-WARW) is often repeated – and requiring the person to physically remove themselves from the area to abbey the threat. However instances of bodily harm in these cases is statistically quite rare, and most "threats" from the wine snob have been completely overblown in the modern, scandal- and –shock-hungry press.
Identification of the wine snob cannot be successfully confirmed based on the presence of wine alone. This is an important enough point that it bears repeating and additional emphasis: not all specimens possessing a wine glass in the wild are wine snobs. The instances of wine snobs within any given wine-drinking population are still quite rare. Again, verbal confirmation must be obtained, as the presence of the wine snob also cannot be confirmed via nesting ground, habitat clues, tracks, diet or scat.
Wine-stained urine is not a reliable identification measure.…