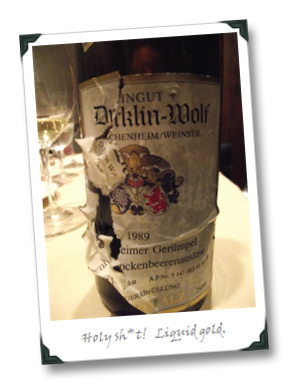 I'm a member of the Wine Media Guild of New York, which probably makes little sense to many of you reading this considering that a) I don't live in New York, b) I'm not formally in the media trade and c) I posses (maybe) one tenth the talent of WMG members like Kevin Zraly.  Members are required to attend a minimum of one WMG event per year, and so I carted my ass up to the Big Apple last week to attend the annual Hall of Fame dinner at the Four Seasons.
This year saw four people elected as Hall of Fame Inductees, none of whom, puzzlingly, were actually present to accept their honors (though in the case of Leon Adams, whose induction was posthumous, the absence was understandable!).
While it's nice to rub elbows with the Right Coast's wine media heavy-hitters, one of the biggest draws of the WMG annual HoF dinners are the wines brought by the members – many of whom pull out interesting/special/older bottles from their personal cellars, and I'm not above mooching off of the vinous bounty of my fellow members (not by a long way, in fact).
I guessed (correctly, it turned out) that most of the Right Coasters were going to go French (and older) with their selections, so I went a bit rogue with my choices…