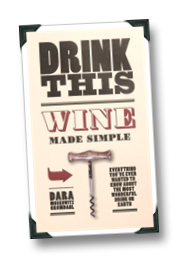 Well… does it?
I ask myself this question whenever I receive a review copy of a wine book, which has been… a lot lately, it seems.
So here comes four-time James Beard award-winner Dara Moskowitz Grumdahl, and her new book Drink This: Wine Made Simple.  Another entry in a (very) crowded field.  It also happens to be excellent, so I suppose the world could use another wine intro book.  Drink This is excellent primarily because Grumdahl's prose is lucid and entertaining.  Her writing is also down-to-earth.
But excellent writing chops wouldn't matter a hill of pomace if Grumdahl didn't know what she was talking about, or if her method for learning about wine proved too rudimentary, too complex, or hindered by some wine-related prejudice.  Thankfully, none of that proves to be the case.  In fact, Drink This is so good that its overall quality makes up for the fact that Grumdahl uses the word 'varietal' as a synonym for grape variety (which it's not).  In fact, she does this so often that I nearly threw the book across the room (I say 'nearly' because my sample copy is a hardcover book, and I didn't want to damage my living room drywall).
The thing that makes Drink This so compelling is that Grumdahl knew writing long before she knew wine. As a result, her method for learning wine (more on that in moment) is likely to  work, because it's the method that she used herself.
The method?  Well, it's a variation on simplification…