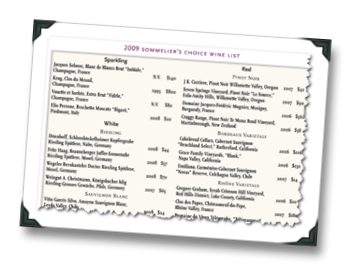 In its December 2009 issue, the fine wine industry mag Sommelier Journal decided to take an interesting and unique angle on the 'year end wine recap.'
Instead of compiling a year-end best-of list, Editor David Vogels asked a hand-selected group (consisting primarily of wine directors, sommeliers and other wine pros) to contribute what they thought to be the most memorable wine they'd tasted in 2009.  The only restrictions: the wine had to be available in the U.S., and the contributor shouldn't be commercially representing the wine in any way.
It's a novel and very entertaining way to recap another year in vino.  The result is presented in the December issue as a 40 selection wine list (along with tasting notes), divvied into Sparkling, White, Rose, Red, and Dessert categories.
The prices of the chosen wines tells us some interesting things about how wine pros view the wine world.  The average price of a wine on that list?
$97.18.
Holy crap!..