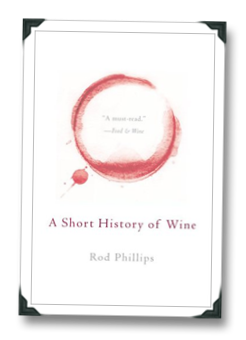 I find wine history fascinating.  This is because I'm a geek not only about wine, but also about history in general – a trait I picked up in undergrad when I roomed with two good-natured History majors at Saint Joseph's University.  My undergrad studies centered on English Lit., and so the combination of overdosing on fiction and being subtly influenced by my roomies has led to, well, let's just say several years of reading fascinating non-fiction.
No surprise then that Rod Phillps' A Short History of Wine should be right up my alley.  And while it is a very good read – I'd certainly recommend the book to budding wine geeks – I'd caution that it doesn't exactly jump out of the gate with intoxicating speed.
Like a young Barolo, Phillips' book starts dryly and slowly.  In fact, it took me several months of starting, stopping and restarting it before I finally got into the rhythm of A Short History of Wine.  I'm pleased as syrah-spiked punch that I did stick with it, though, because it offers up a dizzying array of well-researched and fascinating wine facts (along with subtle notes of Phillips' opinion) on nearly every page – that is, every page after wine hits its heyday (Medieval times) as a precursor to the beverage and industry that we now know and love.
I thought that I'd offer up a couple of the mythbusting tidbits that Phillips' deftly provides in A Short History of Wine, both to tempt those budding History buffs out there  and to( hopefully) clear up misconceptions about a few assumptions that even experienced wine lovers tend to make about the history of their favorite beverage.
Francophiles be warned, I'm going to bust up some French-related wine myths first.  Also, if you're French, note that the next few paragraphs involve both the Dutch and the English.  Try not to let your thousand years of mutual aggression get in the way of the enjoyment, ok?…