"It's the tiiiiiime, for the seeeeeaaason of… giveawaaaaaaaaaays…."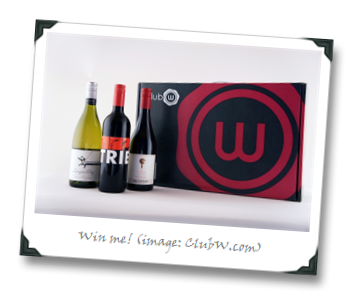 It does indeed seem to be the season of giveaway action here on 1WD, and this week we've got another one; I'm teaming up with ClubW.com to giveaway one month's free subscription to their wine club (that's three bottles, or about $50 worth)! We'll also be announcing a discount code next week (so that those who play along and don't win won't have to wail and gnash their wine-stained teeth).
Living in the Communistwealth of Pennsylvania, I'm unable to indulge in activities that threaten the stability of the state, such as receiving a wine from a wine club. But make no mistake, I adore our enlightened Harrisburg dictators! Honest! Please, don't bulldoze my home!
Anyway, ClubW.com happens to be one of the wine clubs that I wouldn't at all mind checking out, given that their wine curators have picked some very interesting selections, all of which are $19 or under. The ClubW selections include capable, off-the-beaten-path producers like Colorado's Infinite Monkey Theroem (remember them? I do, because they impressed me when I tasted their wares in CO last year), as well as other wine brands that I've been following for a little while now, like Tuscany's Poggiotondo, and Yarra Valley's Innocent Bystander (headed up by Giant Steps pioneer Phil Sexton). They also have wines I've liked from John Duval and Casas del Bosque (the latter of which really kicked ass in `07 with their Private Reserve blend).
One of the most interesting aspects of ClubW.com is that it offers you subsets of their selections based on a taste profile that you fill out before signing up for the service. So, in this giveaway, we're going to explore, in practice, how it works…