"A warning to the crews out there who think they're hot, if you're not original rockers you will get shot
down by the kids neglectin' your art, the stuff you did, eventually it get so bad puts you to bed
'cause when the lightning flashes sweet electricity, all the world then stands revealed with the clarity
of raw voltage, briefly we see and the hope is you'll be able to tell just what dope is…"

– Come Original by 311
Earlier this month, I attended the 2014 Wine Bloggers Conference in Santa Barbara, CA, as a speaker on a panel titled "How The Pros Taste." I was actually in town primarily to help a friend of mine, Wandering Wino, kick off  a post-WBC tasting event (called "Authentic Press") that focused on small SB-area producers (happy to report that was well-attended, and nary a drop of under-performing juice was to be found among the stellar lineup that he selected to pour at the event), so the timing all worked out splendidly.
I enjoyed WBC14 (well, ok, apart from the big dinner, which always seems to fall flat at WBC for some reason, excepting Alan Kropf's entertaining WBA presentation), and thought this was one of the best incarnations yet, particularly for those new to wine blogging. The WBC keynote address by Corbett Barr seemed divisive based on the twitter chatter, but I also enjoyed that talk; and for anyone who doubts Barr's assertion that character trumps everything else when it comes to building up your brand online, consider as some evidence that what I make for writing about wine puts me in the top 5-10% of all U.S. wine writers (and it's a sad commentary that amount is only bonus-level money compared to my previous corporate gig).
I won't comment on the Wine Blog Awards. No offense meant to the winners (there are some fine blogs in that group), and I'm always touched to be nominated and to be named a finalist, but I'm still pretty "fringe" and gonzo when it comes to wine writing (which, after all these years blogging, is also a kind of sad commentary, when you think about it), so the things I value and want to see recognized (in almost any genre, not just wine writing) are usually not what get rewarded. Just imagine how I feel about the Grammy's!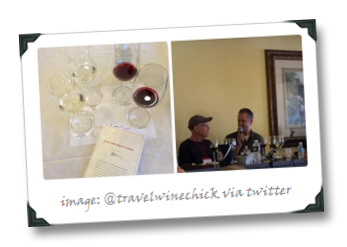 A few hiccups involving LA road rage delays impacting fellow panelist Patrick Comiskey aside, I also had fun participating on my panel (for those of you who were thinking that I was stroking moderator Steve Heimoff's crotch under the table on stage, I was actually petting Steve's adorable pet dog Gus, who was sitting quietly in Steve's lap the entire time; that's my story, anyway), waxing philosophic about how I go about critically tasting vino (and getting totally fooled by the final "mystery wine" of the lineup). I'm good for at least one or two re-tweetable money quotes per panel, and the one that got the most attention during the panel seemed to be my comment on negative wine reviews ("some wines need to be kicked in the crotch"), so I thought I'd talk a bit more about that stance here.
My view on negative wine reviews is that they, like serving rare vintages of the world's finest wines, ought to be reserved for special occasions. I say this because only a few wines are epically bad enough –and were created with sufficient malicious intent – that they deserve your finest writing work…