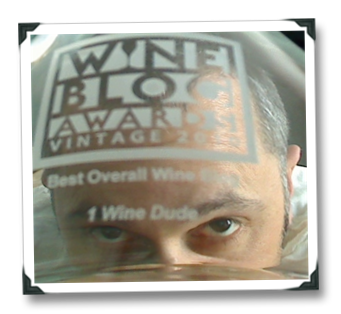 An alternative title for this article might be "Sorry, But I Gotta Be Me" or "The 2010 Wine Blog Awards Messed With My Head."
One thing that I know about good, compelling blogging (because that's the stuff that I like to read) is that you can't be afraid to bare all and let readers inside of your head.
Which entre nous, if I want to take this blog up a notch (and I do), might mean making us both a little uncomfortable from time to time.
Like now, maybe.  Sorry, but I gotta be me.
I've been thinking about the WBAs lately because the "trophy" just arrived in the mail – a very nice (and rather phallic) Riedel decanter with the WBA 2010 logo and the words "Best Overall Wine Blog – 1WineDude" etched indelibly onto the front (see inset pic and… jesus jumped-up christ, what's with all of the gray hair on my head?!??).
Anyway… the thing is, the Wine Blog Awards did kind of mess with my head. The part that really got me into the baking-your-noodle-to-a-crisp-golden-brown territory was  trying to figuring out what the award meant, in the grand scheme of things.
Some would argue "not much."  Others will tell you that it's a bit like the Oscars with a dash of the People's Choice Awards thrown in for good measure.  Truth be told, it still makes me uncomfortable to read the description of the Best Overall Wine Blog category; I just don't yet see 1WineDude.com as competing with the best of the best of all wine media, or advancing the genre of wine blogging significantly enough to make any real difference…