"Literally all my savings all went into the winery to keep it afloat… it was the most challenging time of my life."
Winemaking, especially in these troubled economic times, is not for anyone whose skins might be thinner than your average Cabernet grape's. Case in point: Volta Wines.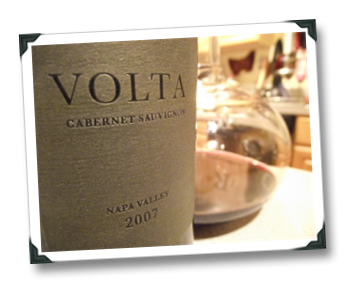 Longtime 1WineDude.com readers will no doubt recognize the name Volta – it's one of the wines that more-or-less put me on the wine-reviewin' map. I was the first person to ever critically review Volta's inaugural Cabernet release publicly, and though the review predates my grading system for wine reviews, the rough equivalent I keep coming back to when I consider the balance of power, focus and suppleness in their first release is "A-" – in other words, an excellent wine and getting that right that early is a stellar achievement for a producer's first try.
Lucky for me, my impression of the Volta 2005 Cab was by-and-large validated by others in the established wine media at the time, including my bro' Gary Vaynerchuk – that's the "puttin' me on the map" part –  and over the successive months I found myself often wondering  How's it going with the Volta guys? and Is Volta ever gonna release an `06?
The answers to those questions turned out to be "Not well" and "No," respectively – a 2006 release never materialized because the entire Volta outfit almost tanked under the weight of the imploding economy.
Yikes.  Turns out the blow wasn't quite fatal, however.
It's with great pleasure that I tell you that Volta is still alive and kicking – I am very pleased today to present not only the first critical review of Volta's 2007 Cabernet Sauvignon release (is it appropriate to call this a "comeback" release already?), but also a limited-time discount on Volta wines for 1WineDude.com readers!
First, let's talk about the 2007 release, and the journey it took to get there… then we'll get into the nitty-gritty of the discount after the jump…