Ok, so I probably need to explain the (relatively) recent twitter update by VisitPortugal.com involving an interview with me focusing on my take on Portuguese wines.
Below is the tweet in question, which takes you to the Facebook Notes page of We Love Portuguese Wines. [ Warning: The Portugal promotion connections get a lot more complicated from here, so if you're already as confused reading this as I was typing it, you might just want to pour yourself a glass of tasty vino and stop reading now. ]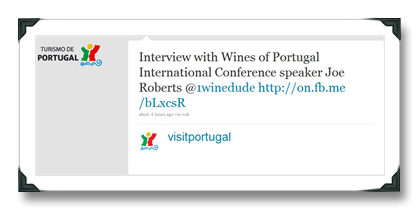 The most interesting aspect of this interview (for me) was that I didn't know it was an interview. I therefore had no idea that it would be published; my answers were part of an on-going conversation with Vini Portugal regarding my participation in the upcoming 2010 Wines of Portugal International Conference in Oporto this December.  For those of you who are counting, this brings the number of seemingly-related Portuguese-promoting on-line properties to (at least) four.
I don't mind at all that the questions I answered for Vini Portugal were used by VisitPortugal.com on the Facebook property We Love Portuguese Wines to help promote the WoPIC.  Or, I don't think I'd mind if I could keep track of all of this.
I need a beer!…