"A bottle of good wine, like a good act, shines ever in the retrospect." – Robert Louis Stevenson
Stevenson had it right about special wines being eminently memorable, though he forgot to add the part about how wine tasting, like a hot date, owes so much to anticipation.
And as much as I like to think that I am inching ever closer to the Zen mystery, it's really difficult not to put expectations on a tasting in which magnums of 1995 Champagne and Graham's Vintage Port (1977), as well as bottles of 1981 Vieux Chateau Certan, take second billing.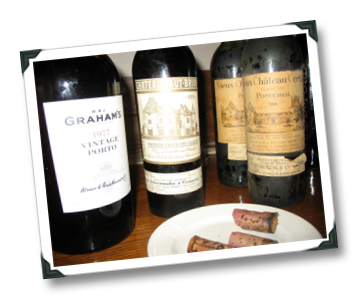 Which is exactly what happens when you have a bottle of (genuine) 1929 Haut-Brion in the lineup.
That's because the 1929 Haut-Brion is one of those extremely rare triple threats: world-class producer, renowned vintage (before every other release was deemed "vintages of the century" in Bordeaux) and rare old wine (in decent condition).
Or so we had hoped, anyway.
As it turns out, that fabled bottle that had me (and several other guests at the Columbia Firehouse restaurant in old town Alexandria, VA) buzzing with anticipation last week had apparently leaked at some point in it's 81-year history.
Uh-oh.
We (a group of about 15 people) were assembled as the hand-picked guests of my buddy Jason Whiteside, DWS (Washington Wine Academy instructor, friend of the Dude and frequent guest poster here) to celebrate the achievement of his WSET Diploma in Wine & Spirits (a pre-req for entrance into the Masters of Wine program).  It's a difficult and hard-earned achievement, well-worthy of opening some special bottles.  As our generous host put it after inspecting the most special of that night's bottles, "this wine could be deader than Lincoln"…