Last month, I had the sad duty of bidding farewell to Shelby Vittek, who most of you know as "The Young Unpaid Shelby," the 1WD intern. Shelby's official internship (the actually-earning-university-credits part) concluded at the end of March. Everyone in Roberts HQ has been sad to see her go, most palpably my daughter who literally hung herself around Shelby's right leg, mockingly begging her not to leave.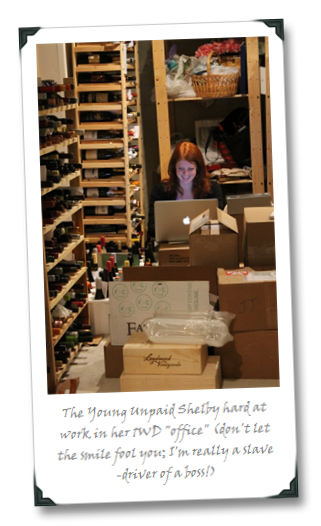 Only a few weeks removed from having Shelby around to help out, and I can say that I wish I'd grabbed the other leg and begged her to stay. From cataloging samples and finally making sense out of the sample pool mess that had taken over my basement, to working directly with Google on performing the technical legwork required for setting up The Punch Down show, to performing research that made its way into several articles across all my various gigs, Shelby totally crushed it as an intern. So much so that we're discussing opportunities to keep her on in some (hopefully paying) capacity, along with the occasional guest post.
Which is, I think, where Shelby really shone during her 1WD tenure: behind the keyboard. Her guest posts were stellar, her writing chops are impressive, and I can tell you that she's bright when it comes to yielding knowledge of the wine world (so much so that her smarties outshine some people that I know who involved in the business and are twice her age).
All of which is another way of saying that if you're in the biz and are reading this, you ought to seriously consider this young woman if you've got a job opening requiring great communication skills combined with practical wine knowledge and a drive to continuously improve on both.
Now that I've given you my commercial for Shelby's professional value-add, we can talk about the fun stuff: namely, wines that she picked to serve during her send-off dinner…