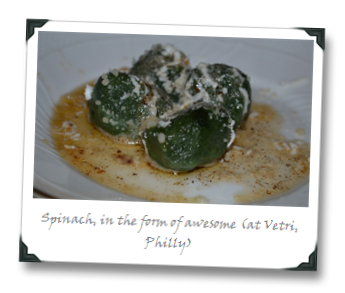 The food scene in my adopted hometown of Philadelphia is, in a word, insane.
As in, insanely good; seriously, if you have a bad meal in Philly it means that you're either dumb, unlucky, or maybe both.
I recently had a bromantic rendezvous at one of the places that has given rise to Philly's vaulted status as a foodie town, when I joined wine blogger Jeremy Parzen and one of his clients, Paolo Cantele, for dinner at the acclaimed (and insanely small) Vetri. "Jar" and I have had a long-standing mutual admiration society going online for about five years, so things got embarrassingly effusive between us (particularly as the wine starting flowing…  oh, special thanks to Jeremy for supplying the food porn pics for this post, by the way).
On a brief side note, "Jar" and I discussed an interesting concept during our meal: whether or not we are, as wine bloggers, making the world a better place. It's a potentially complicated topic, in my view, and Jeremy seemed to think that for various reasons (democratization of wine criticism, ability to focus on unsung regions/producers/stories, near-instantaneous two-way communication / discussion with readers, etc.) that we are making the world better through what we do. I wasn't so sure; not those things aren't great (they are), or that the wine world isn't better with them (it is), or that I don't enjoy the private emails and messages that I get from people every so often telling me that I helped them get to a point of independence in their lives when it comes to wine (I love those moments). The implication is that traditional wine media, in its focus on "ivory tower" style coverage/ratings, does a disservice in some way to (at least some percentage) of wine lovers. But look, we're not rescuing people from burning high-rises here, folks; we're discussing the awesomeness of fermented grape juice, a luxury product for the world's affluent (of which you, if you have the disposable income to purchase fine wine, are a part, when judged by worldwide poverty standards). I'm not sold on it, yet.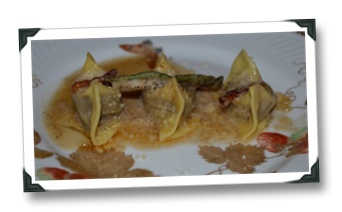 Anyway… Jeremy has an excellent overview of the meal – which I'd rank well within the top five that I've ever had worldwide, which hopefully means something coming from a guy who has had a surfeit of luxury wine-and-dining experiences – posted over at Do Bianchi. So rather than tell you about the small intestine cheese we devoured, I'll detail the amazing wines that Vetri's wine guy, Steve Wildy, selected for this small but vinously demanding crowd, one of which happened to be a seminal red wine experience for my drinking life so far.
You know, so you can hate us even more than you would after only reading Jeremy's post…