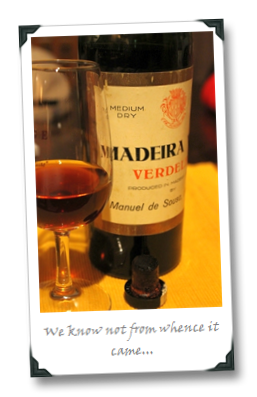 I'd love to kick this post off by somehow linking Madeira to the holidays, but that would be disingenuous of me; the truth is that I love the fortified Portuguese (mostly) dessert wine, and drink it pretty much any chance I get to wrap my grubby little hands around a bottle of the stuff.
For a guy like me, discovering a forgotten bottle of Madeira in a liquor cabinet of one's house is kind of like a pothead finding a stash of Sativas weed and a stack of previously-unreleased, high-quality Grateful Dead live bootleg recordings in one of their bedroom dresser drawers. And so, with eyes wider than a nine-year-old's on Christmas morning, I found myself face to face with (what I think was – more on that in a minute or two) either a 1967 or 1970  Manuel de Sousa Herdeiros Verdelho Madeira.
How I got to the confines of the liquor cabinet in the first place: Last week, we had cooked up a fine pasta-and-sausage meal for us; so fine that the little Dudettelete, for whom dinner typically lasts something like fourteen hours, had cleaned her plate in record time. I mentioned that I'd just received a sample shipment of spirits, and I sprinted to the long-neglected liquor cabinet (you've got to move a small toy store's worth of toddler stuff to get at it now), with the intention of finding an equally long-neglected, unopened bottle of The Macallan 12 Year Old Single Malt.
I knew The Macallan was in there. I did not  know that the Manuel de Sousa Herdeiros Verdelho Madeira was in there. Queue the wide-eyed wonderment…