Virginia, as the marketing slogan goes, is for Lovers.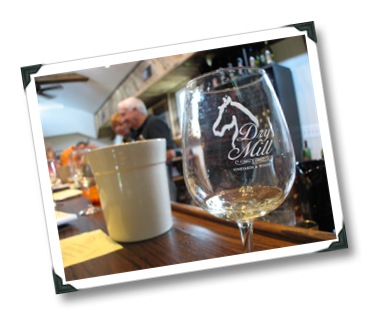 VA may soon be for wine lovers, especially if you're fond of Old World style  Cabernet Franc.
VA is not necessarily for wine writers, however.
Those are the tidbits of knowledge that I came away with anyway, after touring a handful of Loudoun County wineries with a group of other bloggers, sponsored by Reston Limousine.
To be fair, before I start making pronouncements on the state of wine in D.C.'s wine country – and I will make pronouncements about D.C.'s wine country, of course – my tour visited only a handful of wineries in the Harmony Cluster.  While it's situated in close proximity to D.C. and Reston, Loudoun County gets particularly rural particularly quickly, and if you're planning on a tour of the area's wineries you could hardly do better than to hire someone else to navigate the narrow, twisting, unpaved roads between wineries, which I imagine would be harrowing to navigate in poor weather, darkness, or when you're hammered.  Not that you'd do that, right?  Right?!??
I did come away quite impressed with Reston Limo, who sponsored our trip and offer public tours of the area's wine trail.  Our driver was big enough to have been on NFL offensive lineman, and thankfully was quite funny, approachable, and talented (he possesses a very good singing voice, and is able to create – I am not making this up – cursive renditions of your name created from a piece of twisted wire).  So I came away from the tour fairly impressed by Reston Limousine.
The Loudoun country wineries, on the other hand, did not all impress me…