This is how I imagine many top-tier Bordeaux Chateaux owners end their day: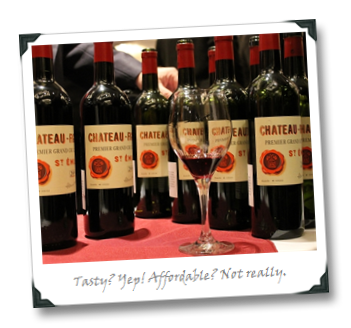 They put down their small glasses of aged Sauturnes (which have been chilled by Winter fairies blowing ice crystals at them), and are lifted out of their easy chairs on large red ribbons made of the finest silk, held aloft by cherubs singing a lullaby from the music of the spheres, and on the way through their marble hallways to their lavish canopy beds they are heralded by smiling, talking statues who repeatedly exclaim how blessed those owners are to be themselves, and how lucky the world's mortal wine drinkers are to have their glasses graced by even the tiniest drops from the nectar aging in their chai's barrels.
I imagine this because living in a fantasy land is one of the few logical explanations for how the 2009 Bordeaux wine prices are shaping up. At least, that's the conclusion I reached after attending the recent Union des Grand Crus de Bordeaux 2009 vintage tasting in NYC.
For sure there were some amazing wines being poured (more on my faves after the jump), but a higher density under one roof of "pretty good" to "errr… uhmmm… not-so-great" wines for $50 and up you are not likely to find anywhere else on the planet. I interviewed Robert Parker a couple of years ago, and in that conversation he told me that Bordeaux wines were dramatically overpriced – the situation appears to have gotten a sight worse since then. As one salesman I met at the NYC tasting told me, when it comes to 2009 Bordeaux prices, "whatever you think it is, add… A LOT!" (that same person hinted that a recent vintage of one of the First Growths was rumored to be $22,000 a case).
But before you start shouting foul play on the part of the Asian wine market being responsible for putting Bordeaux prices out of reach of non-cherub-owning humans, bear in mind that it takes a certain amount of avarice (and probably arrogance) to charge a ton of money for a product that cannot be said be at all a rarity…