I think traditional American wine-writing may have totally jumped the shark.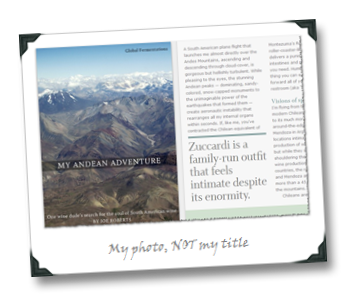 Yeah, I am actually going there.  And yeah, it will probably take around 1100 words.
You see, last week marked my (extremely) long-overdue second contribution to Nomad Editions' iPad wine magazine, Uncorked. The long-overdue part is entirely my fault – things have been busy, as in senator-on-the-campaign-trail-trying-to-hide-his-mistresses-from-the-press level busy, enough so to keep me from contributing weekly.
The Uncorked story is titled "My Andean Adventure: One wine dude's search for the soul of South American wine" and it's core topic is more-or-less my bout with the Chilean version of Montezuma's Revenge (you know the title isn't mine, because I would have called it "Joe's Colon Vs. The Diabolically Banal South American Budget Wines" or something similarly tasteless), and includes photos of mine as well, taken on a camera that costs less than $200, and so marks one of the few times that I've also been a contributing photographer (cue eye-rolling from any serious photographer reading this).  You'll have to subscribe to read the article, but at less than $1 per month for a weekly wine mag that includes regular contributors like Tom Johnson (of Louisville Juice) and sommelier / award-winning author Courtney Cochran, you'd have to be a pretty hard-ass cheapskate wine lover to pass it up.
The thing that got me musing about wine writing jumping the shark was that my first draft of the Andean wine travels article was rejected summarily by Uncorked's editor, (writer and winemaker) Stephen Yafa.  Stephen's words from the Editor's Note of last week's issue:
"When Joe Roberts sent in his article on wine-touring in Chile and Argentina, the piece was wrong for all the right reasons. It was objective, balanced and unemotional. It wasn't Uncorked, or Joe."
Stephen is an excellent editor, and like all good editors he has knack for being right…