With the buzz happening around the Weekly Wine Quiz, I've got wine trivia on the (vino-soaked) brain lately. So it seemed serendipitous that I was contacted by the folks at Trivia Knows to try out their new cross-platform mobile wine trivia game, Wine Knows Trivia.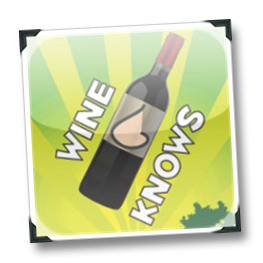 They invited me to take a sample test rive of the game on the iPhone, and I can say that I am fairly impressed – the interface is slick, there's a bit of game-addiction action as you rack up bottles that measure your winnings/progress (which you can then share via twitter, Google+ and Facebook for bragging rights among your social circle as to who has the most wine smarties). And we all know that wine knowledge makes you appear sexier to your potential amorous pursuits (just sayin').
And now YOU have a chance to win a copy of Wine Knows Trivia for iPhone/iPad/iPod Touch, because we're giving away a redemption code for the app to THREE lucky commenters this week!  Here's the deal: you comment on this post, and at 9PM ET on Friday, January 27th I will randomly select three winners from the comments who will receive a redemption code via e-mail (if you win, you need to act fast – after February 3rd, the codes evaporate into the ether, never to be seen again!). Comment discussion topic coming after the jump.
Some of the questions in the Wine Knows trivia game are pretty friggin' difficult – I found a few that rivaled those posed within the exams of the certifications for which I sat over the years. so it should keep all but the most die-hard wine geeks entertained…