It's that time of year, again.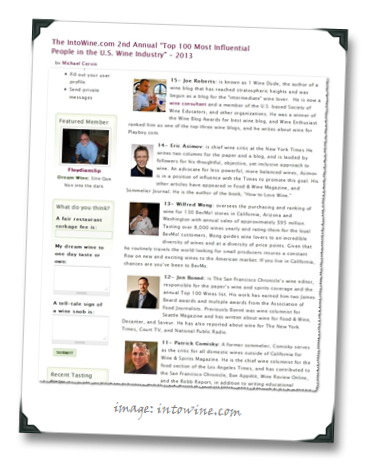 Last year, Michael Cervin (with whom I later toured the wine scene in Crete) from IntoWine.com stirred up a minor sh*tstorm when he published the inaugural version of his list of the Top 100 Most Influential People in the U.S. Wine Industry.
We love lists, and we hate them. Hence the ensuing sh*storm: why was so-and-so left off? how could they place what's-his-name so high up on the list? are these guys just attention-grabbing?… etc. My takeaway last year was that the list was "good for a pulse check, probably bad for anything more substantial than that." I'm pretty much of the same mindset regarding the recently-published 2013 version of the list.
According to IntoWine.com, they don't really have a strong agenda in compiling this list of influencers:
"Does influential mean people who move markets, impact consumers, inspire winemakers, form policy, and create debate? Yes… We merely define the Top 100 people, from winemakers to law makers, bankers to bloggers, and sommeliers to celebrities who influence wine; how it is made, marketed, perceived, sold, shipped, purchased, shared and consumed."
Over the last year, not a lot of shuffling took place in the top 20 (I swapped places with Eric Asimov, which puts him ahead of me and therefore rights at least one wrong from the 2012 version!) – I'm not sure if that means that the wine biz in the U.S. is pretty stagnant from an influencer perspective, but the advent of the list is a god excuse for us to take a pulse of the U.S. wine biz in general…