I fell back in love with food-and-wine pairing when I helped a friend (the irrepressible Tony "The Wine Chef" Lawrence) with an outdoor wine / cooking demo sponsored by the Pennsylvania regional chapter of the American Wine Society about two weeks ago (around the same time that the U.S. Congress was simultaneously "working" at raising both the debt ceiling limit and their own internal douchebag limit).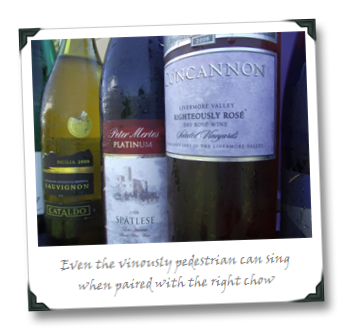 I don't feel like I talk a lot about food and wine matches on 1WineDude.com, but I've certainly contributed my share of recommendations, particularly around holiday times, primarily because people ask me and I feel bad not telling them something when I'm asked.  The trick, as the NYT's Eric Asimov told me a couple of years ago, is to make the topic interesting and continually fresh – because readers do, in fact, want those recommendations.
But the food-matched-with-wine topic, generally, is tired. It's tired because so many so-called rules proliferated in that space for so long, that the net effect seems to have been a general increase in how confusing wine is for the average Joe, a situation the wine industry needs like my daughter needs another plush dinosaur toy.
The most maddening thing about the pairing "rules" is this: of all the trained chefs that I know, none of them adhere to those rules. Not. One. Single. Chef.  So I think the wine consumer can be forgiven for a hearty round of "WTF?" on that one.  The flipside of this rule-breaking is the proliferation of the "drink whatever you like with your food, because your preferences are more important" school of advice.  And I've come to think that this advice – which I've given myself quite often – may, in fact, be wrong.
Why?  Because there are guidelines for food-and-wine pairing. And while they don't trump the most steeped, stubborn, and obstinate of our personal tastes, they do in fact work for many, many people. Probably most people. The guidelines are based on your personal preferences, and are general enough to apply creatively without getting too specific.
And when done right, a food-and-wine pairing can elevate even some of the most pedestrian wines to surprising culinary heights…