When most people hear the name of a French Chateau, they conjure up in their mind's eye a scenario that probably looks a lot like what
Féret-Lambert is like in real life: green hills punctuated by vineyards bulging with ripe, juicy Merlot grapes; a large, picturesque house dating from the 1700s, located a stone's throw from Saint-Emilion in the French countryside.
But when I hear the words Féret-Lambert, I have near-instant recall of something else entirely; I think about… tomato pie.
[ I also think about the dog that tried to eat my water bottle. More on that little bugger later. ]
I think about the fourth generation family that now runs the show there, yes; and I think about some overachieving Merlot-based wine, too, of course. But the heart of the mater to me was the tomato pie we had at lunch when I visited Féret-Lambert in September, as a media guest of Planete Bordeaux.
For the uninitiated in Mid-Atlantic "Little Italy" cuisine, tomato pie is, essentially, margherita pizza without the cheese. But as with any cuisine, there are endless variations, and as a kid who loved tomatoes grown into an adult who loves tomatoes, I have tried just about all of them. Thin, flaky crusts with fresh baked tomato and a hint of sauce on top; thick, floppy, focaccia-style bread with a gargantuan amount of sloppy, garlic-filled red sauce oozing of the top; hearty dough that's soft in the center, crispy on the bottom, and with a light coating of embedded, seasoned tomatoes and a thin layer of sauce that curls at the thick crust and bakes ever-so-slightly into the top layer of the bread (that last style is the equivalent of tomato pie mouthgasm for me). Inexpensive to make, but tough to do really well, and a little (literal) slice of luxury for a boy living in the "upper end of the lower middle class."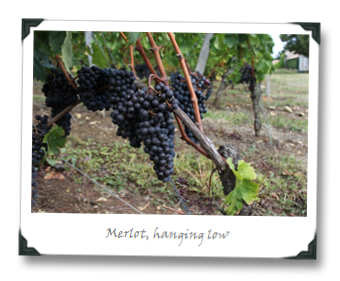 So when it comes to tomato pie – from the utterly banal to the downright succulent – I've just about had it all.
And I can therefore tell you with at least a semi-educated opinion that Féret-Lambert makes a mean tomato pie; more pie-like than pizza-like, flaky crust and ultra-fresh tomatoes baked up together with enough near-perfection to give a Little Italy expat a deep sense of homecoming. And with the Merlot and Cabernet Sauvignon grapes that they're pulling off of the thirteen-or-so hectares of vines that they cultivate there, Féret-Lambert is also making a mean, budget-minded Bordeaux red to go with it…