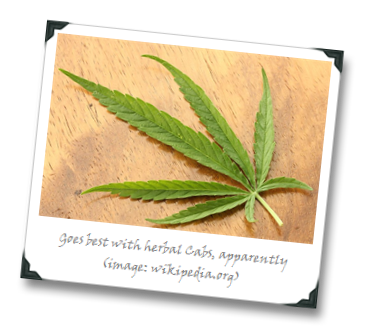 I recently had a conversation with a celebrity involved in the California wine biz that went something like this:
CA Wine Celebrity: "Hey – have you ever had cannabis-infused wine?"

Me: "Cannabis-infused?"

CWC: "Yeah. Totally. Pot wine?"

Me: "No – but I wouldn't be surprised if every other winemaker in California was drinking it; and probably making it."

CWC: "I just tried some. It was weird. It smelled exactly like…" – at this point he extended a long, lanky, outstretched arm ending in pinched fingers directly under my nose – "…like someone stuck a bud in there; it smells just like a big ol' bud right up in your nose!"
Turns out, he wasn't very far off. It is with very, very little surprise that I give you the findings of Michael Steinberger's recent article for The Daily Beast, titled Marijuana-Laced Wine Grows More Fashionable in California Wine Country: apparently, a lot of winemakers in California wine country make the stuff (by dropping about one lb. of dope into fermenting grape juice, Cabernet apparently being the variety of choice, and nearby Humboldt County being the marijuana source of choice), because a lot of CA winemakers dig pot.
Whoa – now there's a news flash [ Editor's note: sarcasm intended ].
We are talking about California here, people…