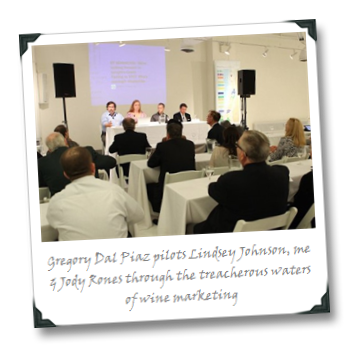 Can social media be used as tool to drive sales for wine retailers, distributors, and importers?
Yes, I'm seriously asking that question.  Stop laughing, okay?
Despite the fact that even well-attended and publicized retail events don't seem to be moving umpteen cases of wine, the consensus answer seems to be "Yes – with caveats," based on a panel discussion I took part in recently in New York.
The title of the thirty-minute sessions was Wine Marketing in the Digital Age – I shared the table with with Jody Rones from Thrillist.com (a daily email marketing blast with a ridiculous number of subscribers), Lindsey Johnson from wine PR mavens Lush Life Productions, and Gregory Dal Piaz of Snooth.com (Editor in Chief for the one of the largest wine websites in the world – he chaired the session).  The panel was part of a sponsored event by Wines of Chile, who concurrently put on a pretty kick-ass grand tasting of something like 300 Chilean wines, of which I had time to taste about twelve before having to hoof it to Penn Station to catch a train back to the ol' dancin' waters of Philly.
Thirty minutes isn't a lot of time to cover such a potentially diverse and broad topic, but it won't surprise 1WD readers that I said "screw it, I'll try it anyway!"…