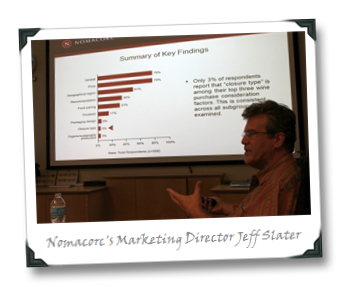 "That was an interesting concept for me," Jeff Slater, Nomacorc's Marketing Director, told us as he presented research findings on alternative wine closures; "winemaking continuing after bottling."
A few weeks ago, I and a small cadre of wine press toured Nomacorc's Zebulon, North Carolina manufacturing facility as media guests, meeting with their upper brass and donning lab coats to see how their synthetic wine closures – the only ones in the business to offer specific oxygen transfer rates – are made.
And Slater (who has his own –  quite engaging – personal blog, by the way), had gotten me thinking with that comment. When does a winemaker's job end? If you believe Nomacorc, that job – at least when it comes to any particular wine release – doesn't stop when the bottle gets sealed.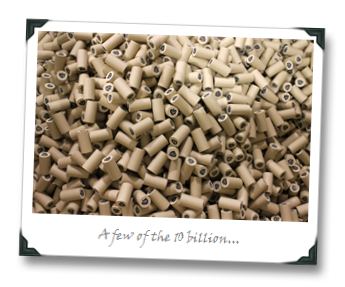 Nomacorc might not be a household wine geek name, but in terms of numbers the odds are good that you've had your corkscrew in at least one of their products at some point. As of 2011, Nomacorc had around 70% of the synthetic cork market, and were the second-largest closure manufacturer in the world, topping off 13% of all still wines globally by market share. Thanks to deals with mega-producers Kendall-Jackson, Cupcake and Barefoot, nine out of every ten Chardonnay bottles in the U.S. are stopped with a Nomacorc closure.
Put another way, recycling has become a major concern and big priority for Nomacorc (according to CEO Lars von Kantzow), because they produce two billion (yes, with a "b") closures per year: 1 in 5 of every wine in France, 1 in 4 for Germany, 1 in 3 for the U.S., by volume. They've churned out something like two corks for every human on Earth since they entered the market in 1999, when their founder, Belgian Gert Noel, got fed up with having one too many corked wines and worked with his son to develop an alternative.
So, yeah, you've seen one of these closures. And chances are good that you've not thought much about them, either. As Slater put it when he summarized a 2011 Merrill Research survey of about 600 wine consumers: "it's like the laces in your shoes; you don't think about it unless it breaks"…