Last week, I had the pleasure of receiving an e-mail from Jim Gordon, all-around nice & talented guy, editor of the wine industry stalwart publication Wines & Vines, and Director of the Symposium for Professional Wine Writers, containing the following tidbit:
"Congratulations! The winners of fellowships for the 2010 Symposium for Professional Wine Writers at Meadowood Napa Valley have been selected, and you are among them. I wanted you to know as soon as possible that, yes, you are a winner and that you should proceed accordingly with your travel plans for the Feb. 16-19, 2010 event… The writing samples you sent were judged blind by a panel of accomplished and objective wine writers, and earned you this honor as one of the most talented writers attending the sixth annual Symposium for Professional Wine Writers…"
Holy.  Crap.  [Editor's note: the previous statement refers to my reaction upon reading the e-mail; the words "holy" and "crap" do NOT appear in any form / context in the text of Mr. Gordon's note. ]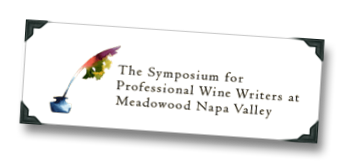 It's funny – I don't feel like a professional wine writer…
I can only assume that "judged blind" means that the judges were actually blindfolded when they reviewed the fellowship candidates' writing samples, otherwise I'm at a loss to explain the extreme lack of sound judgment surprising and unexpected choice displayed by awarding me a fellowship.
Not that I'm complaining.  For one, the speakers on tap for the Symposium read like a wine writing All Star Team line up.  And you'd do a lot worse than to stay at the posh Meadowood for four days.  But the coup de grace (which, by the way, is one of the more violent foreign language expressions to be adopted into common English language usage) is that Alder Yarrow (who is also participating in the Symposium) recently raved about past Symposium events, and I respect Alder's opinion – even though he once stole my girl (just kidding, Alder – who loves ya, baby?)…