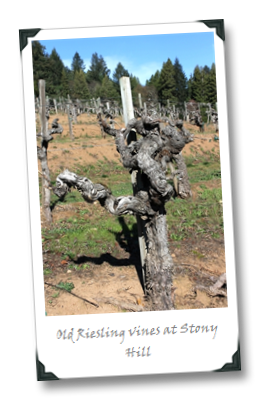 Peabody's Wayback Machine has got nothing on the steep, two mile drive from Napa Valley's Bale Grist Mill State Park up to Stony Hill Vineyard. Brave that vertical, moss-covered tree-lined climb between St. Helena and Calistoga, and in many ways you're transported at least forty years back in Napa time, and to what seems an entire world away from the Disney-fied scene of the opulent temples of vino-ness that pervade Route 29.
Feel free to insert your own clichés about technology being the only indication we're living in a modern age when touring this winery's weathered but functional buildings and it's gnarled old Riesling vines. They're pabulum, sure, but in this case also apt (I was warned to plan on no cell phone coverage when I reached the top of their road; the Wayback machine renders that inoperative, I suppose).
"This is the land that Napa Valley Time forgot," mused Sarah McCrea, the former corporate marketing brand director who, in 2012, stopped fighting the inevitable call of becoming Stony Hill's third generation proprietor. "And we like it that way."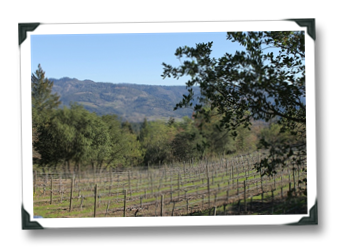 McCrea's grandparents, Fred and Eleanor McCrea, bought this little chunk of Spring Mountain in 1943, when it was a former goat ranch that "nobody seemed to want." The first plantings happened "in `48, `49, after the war," according to McCrea. Some Riesling vines from that era still remain on the property. A small winery was completed in 1953, and trust me when I tell you that, while charming and unquestionably setup in a beautiful place with a beautiful valley view, it would hardly qualify as garage-sized for some of the polished-with-gobs-of-cash winery façades just a few miles farther south on Route 29. Since that time in the fifties, almost nothing (thankfully, blessedly, miraculously) seems to have changed here. Case in point: in sixty years, Stony Hill has employed fewer winemakers than the venerable Pittsburgh Steelers have head coaches.
To put Stony Hill in perspective, one has to understand that when they started in the wine business in Napa, there was no perspective. There wasn't even much of a Napa fine wine business. There's is a tale that, as Morrissey sang, starts "from before the beginning…"