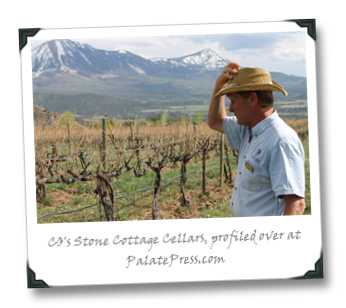 Hey, remember that trip I took to Colorado, as part of the 2012 Drink Local Wine Conference?
That was in May, a mere couple of months though it feels more like fifteen years and several hundred grey hairs later for me, given how much time I've been spending prematurely aging myself through the rigors of our modern day version of a true rite of passage – air travel – lately.
Anyway, I profiled three CO Western Slope wine producers from the West Elks and Grand Valley AVAs (Stone Cottage Cellars, Garfield Estates, and Canyon Wind), titled World-Class Wine In Harsh Conditions, Colorado's Greatest Challenge May Be Man-Made, which you can now check out over at PalatePress.com (the photos in that article are mine, and yeah it really is that beautiful out there, and yeah I'm not regretting finally forking over the dough for a real camera).
In addition to that, the next installment of my Playboy.com column Wined Down is live (The Girls of Summer, And the Wines to Woo Them), and has generated a small amount of controversy on-line over whether or not I went over the line (MARK IT ZERO, SMOKEY!) in how I portrayed my version of the "white wine recommendations for Summer."…