Last week I was interviewed by the IntoWine.com folks (these are the same folks who engendered a great deal of controversy in the wine world when they released their first annual list of  the "Top 100 Most Influential People in the U.S. Wine Industry").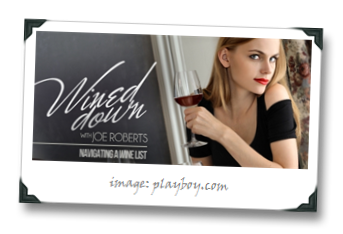 IntoWine.com was (overly) kind in their introduction of me at the start of the piece (thanks, guys!), but otherwise you might find it readable so I'm mentioning it here. I'm not sure why I was so frank and edgy in my responses, maybe the Playboy.com gig is rubbing off (ha! sorry, couldn't resist that) on me.
Speaking of the Playboy.com gig, my latest article in the Wined Down series posted last week, an interview with Master Sommelier Fred Dexheimer on how to successfully navigate a restaurant wine list (for more on Fred, check out the video interview I did with him a few weeks ago).
I mention the latest PB column not only because it gives you an excuse to go look at pictures of beautiful, scantily-clad women for a few minutes, but also because I happened to pen it and PB happened to launch it the same day that a minor sh*t storm broke out on Tyler Colman's excellent DrVino.com, around the comments made about modern wine lists by NY Post restaurant critic Steve Cuozzo. If you think my take on retailers, distributors and importers was harsh in the IntoWine.com interview, wait until you see Cuozzo's remarks in the comments of Tyler's post…