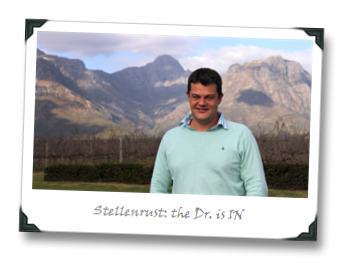 Make your way through the typically-wine-country picturesque town of Stellenbosch in South Africa, pass by the nigh-unpronounceable Blaauwklippen and Paradyskloof (I gave up on trying those tongue-twisters, personally), and you'll find yourself at a gorgeous mountain-studded spot – Stellenrust – where they number their Chenin Blanc.
But then, you'd probably expect a numerical focus from a place where the proprietor's name is Dr. Tertius Boshoff. C'mon, if it was from a crime novel you'd roll your eyes!
Boshoff looks nothing like what you'd expect from that name (I envision a modern rendering of Hugo Strange). But he does seem PhD-serious about his wines, and an estate that dates back to 1928 (which is not that long ago by some South African standards, actually) and now encompasses about 400 HA of vineyards across Stellenbosch and the cooler, higher elevation Bottelary Hills, near Cape Town.
The Stellenrust tasting room is a bit of an odd experience, ultra-modern inside but fashioned in some sort of Greco-Roman homage on the outside. And of course, just to throw you off, the wines are French-influenced, with some (their "JJ" line) being made entirely by hand, no machinery allowed.
Confused yet? It's okay, because the wines are worth the oddities…