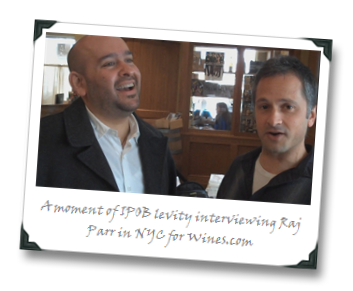 With the In Pursuit Of Balance tasting (which recently hit NYC), co-creators Parr and Jasmine Hirsch (of Hirsch Vineyards) have brought together some of the most exciting – and highest quality – producers of Pinot Noir and Chardonnay in California (many of which hail from the West Sonoma Coast, where those wines are rapidly reaching world-class status).
For me, their invitation to attend the NYC event was a chance to catch-up with some of the wines and producers I'd first been introduced to last year at the inaugural West Of West festival in Occidental, catch-up with Raj, and maybe get introduced to some new wines.
I expected to find some really (really!) good Pinot Noir and Chardonnay at the IPOB tasting recently at City Winery in NYC.
I just didn't expect some of best of those wines to be Raj's.
But there you have it – the wacky world of wine, in which a sommelier can team up with a California native (Sashi Moorman) and make better wines than some people who have been at it for decades longer. And I'm merely calling it as I see (er, taste) it – the juice is the juice, and in this case the juice is pretty damn good; in fact, it was some of the best offered in a room full of wines where sub-par offerings were hard to come by…