The March issue of Sommelier Journal is dedicated to the topic of wine education, and (as always) is well worth a read for wine pros and serious wine geeks alike.  It contains a great follow-up article by Master Sommelier Tim Gaiser on the current status of the wine certification landscape, so the issue got me thinking (as it always does) about repercussions beyond the world of professional wine service, and into the worlds of wine writing and passionate wine enthusiasts.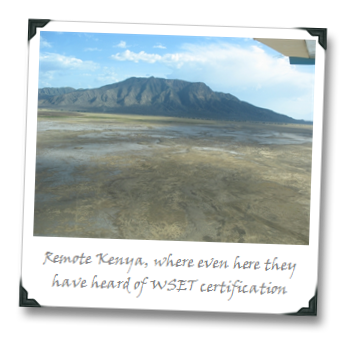 And it got me thinking that YOU probably should get a wine certification.  it also got me thinking about the remote area of Shompole in Kenya, where even in a place where you have to buzz the runway in a small Cesna to scare zebras off of it before you can land, they saw value in the WSET certification (more on that in a minute).
Chances are if you're reading this, you're a passionate wine enthusiast, a wine professional, or a wine writer (or any combination of one or more of those).  Actually, according to Alexa.com stats on my blog, chances are you're a female between the ages of 25 and 44 with a decent amount of disposable income, living in the U.S. and surfing this blog from your work computer (shame on you!).
Anyway, I am growing increasingly convinced that wine certification suits 1WineDude.com readers, and is growing more and more applicable to a larger and larger audience of wine lovers.  And I'm gonna give you three reasons why YOU should get a cert.  And No, I don't work for any of those certification bodies.
I know what you might be thinking, which is something along the lines of "Why do I need a certification to be an expert on how much I like or dislike what I shove into my mouth?!??" And the answer of course is that you don't need a certification for that.
You need it for other reasons.  Hear me out before you shut me out – first I need to take you to the hot salt flats of the Great Rift Valley in remote Kenya…