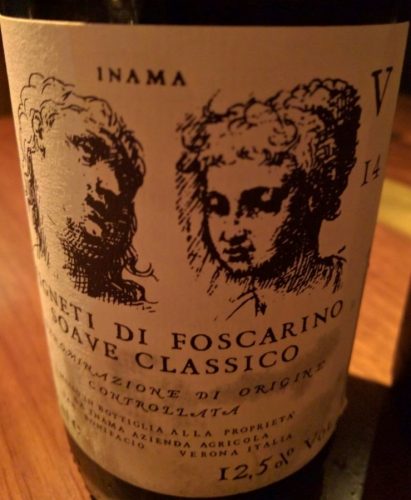 What do you do at harvest time if you are part of a family wine business, but are highly allergic to pollen?
If you're Alessio Inama, son of Azienda Agricola Inama's Stefano Inama, you hoof it to the major wine markets, and take media types like me out to dinner so that we can taste your wines. Which is how I got to meet Alessio at Philly's excellent Fishtown-area haunt Root last week.
Alessio describes his father as "a crazy man," and certainly he has a rep in the wine world for possessing the quintessentially Italian trait of bucking convention (which is second only to the quintessentially Italian trait of adhering almost blindly to tradition). This is fortunate for anyone who loves eclectic northern Italian white wines, as Inama is now well-known as producing the thinking person's Soave. Alessio quoted his father as saying "the first step to making a great wine… is to fire the accountant." It's hard not to like such a character (unless you're his accountant). Especially when he also makes Carmenere (more on that in a minute).
Back in the 70s, Soave had its heyday, being one of the most recognizable Italian wine regions, if not its most famous white wine regional brand. As in all such things, insipidness and market hangover ensued, and by the 1990s Soave wasn't much considered as the world turned to Pinot Grigio and Chardonnay (though Soave remained popular in its home country). It was during the heyday in the`70s that Alessio's grandfather, Giuseppe, began buying up small, lava basalt hillside lots in the Soave Classico region (today they own about 30 hectares).
Today, Soave is a bit of a bell curve. At one end, you have insipid, forgettable quaffers; in the middle, a large production of capable, often very good, almost always refreshing sippers best enjoyed in the warmest months; on the tail end, a small number of producers who push the region's Garganega grape to its physiological – and philosophical -limits…