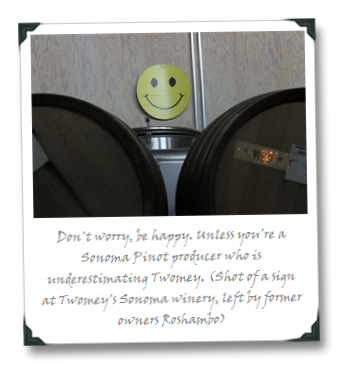 Ask Silver Oak's chief winemaker Daniel Baron to explain SO's pet project, Twomey, and this is what he's likely to tell you (at least, it's what he told me when I spent the better part of two days with the SO staff during a press trip earlier this year):
"If someone's gonna make the un-Silver Oak, it might as well be us."
In many ways, Twomey is the anti-SO: single-varieties versus blending, French oak versus American, small production (about six thousand cases produced of each varietal bottling) versus large volumes, playing up single-vineyard and vintage expression versus aiming for consistency in flavor and quality year-on year.
On paper, anyway, Twomey certainly looks like the anti-matter particles to Silver Oak, the Bizarro Superman version of SO's impressively well-run, large-scale red blend operations. But Twomey's quiet success is actually now seen by SO as a key learning element to inject back into their namesake production. "The bigger we got at Silver Oak," Baron told me, "the smaller we got in out approach."
Wine geeks might be tempted to dismiss Twomey simply on the basis of it being founded by the behemoth Silver Oak, but my tasting experiene would show that to be a mistake.
A big mistake, actually.
Because Twomey is, as one Sonoma winemaker told me privately, "making some of the most damn interesting Merlot in all of California." And in applying their approach to a handful of single-vineyard Pinot Noirs (in part to appease the Burgundy fans in the Duncan family who run SO), they're well on their way to making some of the most exciting Pinots in CA, too…