At this point, I think that we've established that Bordeaux native Christine Barbe is at least a little bit crazy. Very talented, but a little crazy. Crazy enough to justify the namesake of her personal brand, Toquade, anyway.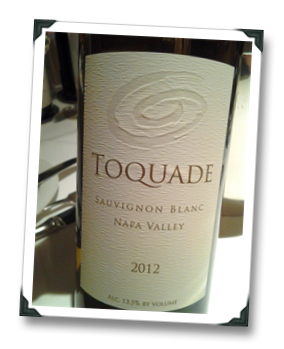 She has, after all, devoted a significant portion of her current winemaking career to – egads! – Napa Valley Sauvignon Blanc, a region/variety combo that is often either derided (justifiably, for the too-frequent examples that taste like melon-cream soda gone flat mixed with grain alcohol), or in the better cases (unjustifiably) pigeon-holed as always just-shy-of-greatness, the NV also-ran grape. It occurs to me now that NV SB is a bit like the Philadelphia Eagles of the wine world, only without the awesome fight song (seriously, it's the best one in the NFL; yeah, the San Diego Super Chargers song has an awesome bassline, but otherwise it's waaaay too disco for football).
NV SB is also the primary focus of Barbe's other winemaking job, helming the juice at Clay and Brenda Cockerell's Coquerel brand. They make wine from other varieties, too (the Verdelho and Chardonnay are both well worth seeking out), but it's that underdog NV SB that has captured Barbe's heart.
That's crazy in a good way, of course, and I wish more winemakers had Barbe's brand of eccentricity, because she's making the kind of wines – both intellectually and sensually pleasing – that I like to drink on my own time and my own dime.
On one of my recent sojourns to the Left Coast, I got to catch up with Barbe over dinner at San Francisco's Farallon, a restaurant that sports a décor that I can best describe as "Alice goes scuba diving in Wonderland." Fortunately, they specialize in seafood, which made a natural match for our little Sauvignon Blanc-fest…