Excruciating pain has a way of giving you additional focus.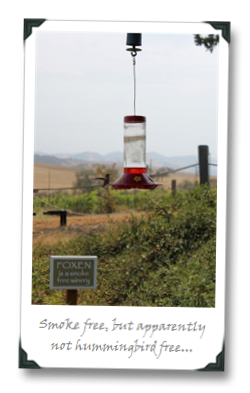 I'm learning this the hard way, courtesy of a degenerated L5-S1 lumbar disk which is causing a bulge that my spinal cord finds disagreeable ("disagreeable" as in "excruciating sciatica that is more painful than when I broke a bone in my hand and is now at the point of nearly debilitating me").
I mention this as framing only, because when you're on the road (in this case, a paying gig handling social media ambassador duties for the 2013 Chardonnay Symposium) dealing with this kind of pain, it takes something special for you to bother expending the energy required to really focus on it. You've got to seriously want it, and it has to be seriously worth it.
That's the best way I can sum up my time tasting a handful of the twenty nine (!) different wines offered by Foxen's vintner Dick Doré and winemaker Bill Wathen during a brief trek through Santa Maria a few weeks ago; that they're worth your focus.
Doré was scruffily unshaven (not judging – so was I!), down to earth and amicable, touring me with the occasional waves of his long and lanky arms through their new winery that sites a short distance down the road from the barn in which Foxen had been making wine for about twenty-five years. Foxen is one of those unassuming producers that sits under the radar, but gets a knowning nod when discussed among wine geeks. I got the impression from Doré that they like it that way, and that they've yet to fully grow into the skin of a three-year-old facility that would be modest by most California Disneyworld-like tasting room standards…