Actually, it's not social media and wine that I'm going to be talking about here – it's social media and engagement. Engagement with actual people who actually spend their actual hard-earned cash for the purpose of drinking actual wine…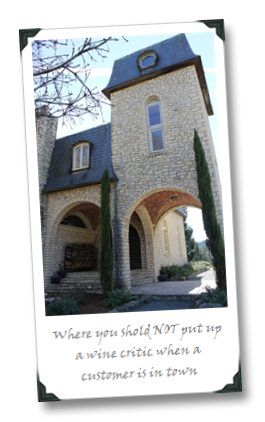 It's taken a while for me to respond to this plea for me to lighten up when it comes to social media's place in the wine world. The delay is mostly due to me having been on the road, and otherwise waiting for the Universe to present a pertinent example of what I was talking about (it didn't take long – more on that in a minute or two).
I'm not lightening up. If anything, I think we all should be making more of a fuss over this stuff, not less.
The best responses I can give to any challenge on the power of engagement in the wine world come from my own experiences. So let me talk to wine producers directly here for a minute or two (…or fifty), and share some of those experiences with them. It will sound harsh at times, but that's because I keep hearing arguments that are the equivalent of telling me that my experiences didn't happen, and I'm not a psychotic (at least, not yet) so there's definitely something a bit screwed up here. And most of what I'm saying is not unique – it's been said by others, I'm just culling many of the points together.
For those that don't want to wade through the damn-near 1800 words that follow, the bottom line is this: if you are producing wine, and in this day and age you are letting someone like me (or any critic) dictate the majority of your brand message to current and potential customers in online engagement channels (twitter, facebook, etc.), then you need to audition for a Jim Henson Company project, because you're acting like a Muppet…