It's a wet, chilly, grey Winter morning in San Marco, a locality that sits just outside of Italy's Montefalco and the ridiculously-well-named town of Bastardo. And I've had to wait in the damp cold for a short bit, because Filippo Antonelli is a bit late for our appointment at his family's winery (hey, welcome to Umbria, right?). And that's pretty much the only slightly-negative thing that you'll read about Antonelli over the next few minutes… but let's set the stage with a little bit more detail before we get into the effusive wine recommendation stuff…
Filippo opens up the Antonelli tasting room, which sits on a hill across from the old family house/cellar/former winery, and starts to bring the charmingly imposing place to life, switching on the lights, and asking me "would you like a coffee?"
I tell him no, grazie, I just had plenty of java at my hotel, so I'm good.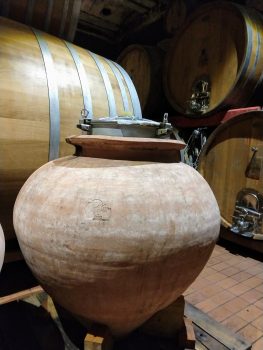 After a bit of a pause, he turns towards the espresso machine longingly, then back to me. "Do you mind if I have one, then, before we get started?" And that's one of those moments where you just love Italy.
Anyway, Filipo then gives me the lowdown on the Antonelli biz. He co-owns (since 1986) the family company along with his cousins, with the Umbria property being from his father's side (and formerly, for about six centuries, being the Summer residence of bishops – part of the fact that Umbria was a portion of the Vatican state until the Eighteenth Century). His great grandfather Francesco was a lawyer, who purchased the estate in 1881. At that time, it was typical Umbrian farming fare; a mix of vines, olive trees, pig farms, and wheat, with the wine being sold in bulk and crop-sharing being the norm. After the advent of the DOC in 1979, they began bottling their own wine, and now release about 300,000 bottles a year from 50 hectares of vines (and still farm olives, wheat, spelt, chick peas, and host agritourism (that is an actualy word, by the way) on roughly 170 hectares of land).
A new subterranean winery was built in 2001. And from it comes perhaps some of the most elegantly-crafted Sagrantino available on the planet…