On September 7, the Consorzio del Brunello di Montalcino will vote on a proposal to potentially make Brunello's little brother, Rosso di Montalcino, less awesome.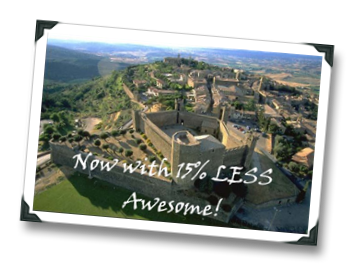 Specifically, they are proposing to allow Rosso di Montalcino, currently made with 100% Brunello (a form of Sangiovese) grapes but with less aging requirements than Brunello di Montalcino wine, to be made with up to 15% other grapes – as in, any other grapes.
To make a long story short(ish), using a time-honored approach in which Italian regulatory bodies seem to liberally apply double-standards, the Consorzio's plan to effectively water-down Rosso di Montalcino seems to undercut entirely their stated life's purpose: "The work of the Consorzio consists in safeguarding, controlling and enhancing the value of the Denomination of Origin wines of Montalcino."  My suggestion is that you flood their Inbox at [email protected], tell them to pull their heads out of their… barrels… and make sure this proposal gets a NO vote.
Why am I upset about this, aside from loving Brunello enough that I named my dog after it?  Because this move is, as my grandmother would have said, the "lazy man's load"…