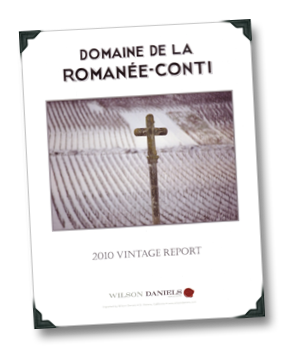 I'm interrupting all of the planned 1WD content to cave in and give you the low down on the 2010 Domaine de la Romanée-Conti event held at NYC's A Voce Columbus earlier in March this year, to which I was invited (as just about any of you following my twitter feed already know).
I won't be telling you the quirky about the that will appear, at some point in the near future, in all of its quirky… quirkiness in my Playboy.com Wined Down column. What I will tell you about is the stuff that didn't make it into that piece: the geeky 2010 vintage details from Aubert de Villaine, and my expanded thoughts on each of the releases. You'll have to go to PB later to get the other fun stuff; I'm also skipping the DRC preamble, since most of you are already familiar with it (short version: mostly monopole Pinot Noir that's literally atop the Burgundian classification food chain, made in small quantities, widely touted to be the world's greatest, and most definitely among its most expensive).
But I know that the geek-geek-geekiest among you want the scoop on these wines, and I know this because you've already tweeted, DM'd and emailed me about it.
Al lot. And not shyly.
So… fine, here it is, already!
First of all, there were a lot of friends familiar faces at that tasting: Elin McCoy, Mark Oldman, Andrea Robinson (whose stemware was chosen for the tasting, a nice coop for her), Jordan Mackay, and Eric Asimov, as well as quite a few NYC somms that I know who have high-end restaurant gigs (lucky bastards, all; I sat with them during the tasting, because let's face it, somms are the most fun people in the wine biz). Former Wine Advocate critic Antonio Galloni was also in attendance; I didn't get a chance to chat with him, though he did at one point give me a kind of odd look (which I took to be more a hey-am-I-supposed-to-know-you? glance than a what-the-f*ck-are-YOU-doing-here? glance). Hell, I'd have given myself an odd look at a DRC tasting, okay?
First, I'll give you the bullet-point run-down of the gentlemanly Aubert's take on the travails of the 2010 vintage for this tiny and elite spot in Burgundy, and then we'll tackle the tasting notes for all of the releases, of which you'll immediately notice two things…