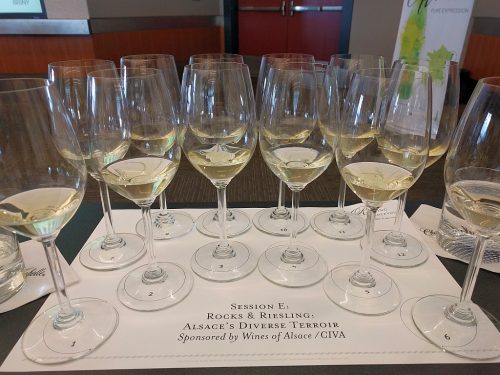 So… we were talking about Riesling Rendezvous 2016, before we were so rudely interrupted by about a week of "real life."
RR 2016 provides some concurrent sessions, during which you can listen about and, usually, taste wines from particular Riesling-producing regions. I happened to get signed up for what was called "Rocks & Riesling: Exploring Alsace's Diverse Terroirs" with the entertaining and informative Thierry Fritsch, head oenologist and chief wine educator with Conseil Interprofessionnel des Vines d'Alsace (or CIVA).
Fritsch walked us through twelve wines from across most of the narrow expanse of Alsace, and did so expertly and humorously. I found his slide attempting to match Riesling wine attributes with particular Alsatian soils quite useful (see inset pic).
But I'm not here to talk about any of that, because this is, well, me. I'm only going to focus on one of Alsace's Grand Cru terroirs, and only two wines. Because those two wines convinced me that when it comes to Alsatian Riesling, I don't know what the hell I am doing; I am a mere babe crawling his way out of Rangen Riesling-soaked diapers, my friends…