I have (among other things) been described as peripatetic.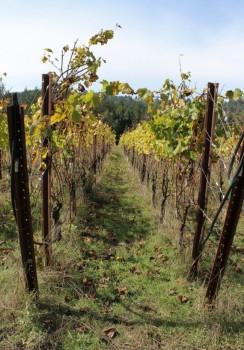 That adjective is apt, but as peripatetic as I can be, I pale in comparison to Red Car's tall, thin, and quick-witted General Manager Peter Willmert. Willmert, along with winemaker Carroll Kemp and vineyard manager Adam Carter live, breathe, and seemingly sleep (if Willmert actually settles down long enough to do that, I mean) all things Red Car from their small spot on Graton Road in Sebastopol.
Like Willmert (who is fond of jumping quickly from topic to topic, somehow without losing an ability to take deeper dives along the way), Red Car has been in more or less constant motion in its relatively brief history.
"I like the acidic, crisp style," Willmert told me when I visited. "One part of the [ Red Car ] evolution was getting out of the Central Coast; we've left a trail of warmer vineyards, and moved everything to the Sonoma Coast. Since the 2000 vintage, the wines have been pretty consistent." It helps that they've got dedicated vineyard staff (as he put it, "I'm a control freak. And Carroll's a control freak"). Somewhat ironically given Willmert's penchant for rapidly bouncing between topics, Red Car's wines have arguably never been more focused and singular of purpose.
What he means is more lithe, energetic, and focused on premium. Much of the source material for Red Car's wares come from vineyards that are surrounded by orchards and redwoods (and gophers), within spitting distance of the sea, in areas that were long though too cool to house "serious" viticulture. Judging by the wines I tasted, those early pronouncements were dead wrong…